Healthy Tongue Secrets Revealed - Geographic Tongue Healthy Tongue Secrets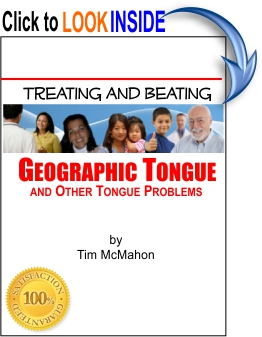 Health care tips : Home Testimonials
10 Secrets to a Healthy Tongue
Navigation
Geographic Tongue In Pregnancy/ Nursing
Babies/Toddlers
Teenagers/College
Menopause
Cure
GT Doctors
Gluten Intolerance
Steroids
Articles 3 Words Doctors say about Geographic Tongue that Make Me Angry!
Is There a Cure for Geographic Tongue?
Geographic Tongue in Menopause
College Student Eliminates Geographic Tongue in 1 Month Naturally
Geographic Tongue in Toddlers and Children
Is Geographic Tongue Really Incurable?
Video What Your Tongue Can Teach You
How I Discovered The Secret to Repairing Tongues
The 25 Geographic Tongue Eliminator Doctors Dont Know About
How to Eliminate Geographic Tongue Even If Youve Tried Everything Before!
Other Tongue/Mouth Problems Tongue Problems Beefy Tongue
Burning Tongue
Fissured Tongue
Scalloped Tongue
Pigmented Tongue Reduced Adrenal Function
Mouth Problems Angular Cheilitis
Burning Mouth
Bruxism (Teeth Grinding)
Canker Sores
Cold Sores
Dry Mouth
Tongue Coatings Black Hairy Tongue
Black or Brown Tongue
Hairy Leukoplakia
Thrush
Order Now
Healthy Tongue Secrets Revealed
Tongue problems can be very discouraging because of the way they come and go. Just when you think they might be clearing up, Bam! theyre back again.
How I Discovered the Secret of a Healthy Tongue
I am a lot like you, I once suffered from Geographic Tongue and even worse. I hope you wont think Im bragging, because Im not. I just want to explain how my unique background enabled me to discover the Secrets that can give you a Healthy tongue.
You see, many years ago, while attending a prestigious private engineering college in upstate New York, I was trained in the methods of top-notch research. Just before graduation, I was even recruited by the CIA, although I didnt know it before I went to the interview (did you know they actually hold covert interviews not disclosing who they are until you get there?) and eventually I turned them down. My colleagues went on to become top researchers for companies like IBM, Kodak, Colgate and, yes, even the CIA.
But shortly after graduation, my situation took a strange turn. I developed Crohns disease and started wasting away. I couldnt eat without excruciating pain. Whenever I ate anything solid the pain would be so bad that I literally rolled on the floor in agony.
It was a terrible experience. I was sure I was going to die as I slowly went from a healthy athletic 135 lbs down to a scrawny, emaciated 98 lbs with strange patches all over my tongue.
I was desperate to find a solution and frankly at the time, my tongue was the least of my worries. But with my life literally hanging in the balance, I focused my remaining strength and turned my research expertise on finding a solution.
I made a Wonderful Discovery While Struggling to find a Solution
But a strange thing happened while I was researching what makes you healthy and the factors involved in disease. I made a rare and unique discovery so enormous, that I am excited to share it with you!
Ifound that certain nutrients made a difference in the condition of my tongue. And over the last twenty-five years I have refined my findings and in addition to my Crohns disease being a thing of the past (which the Doctors say is impossible) I have only had rare bouts with Geographic Tongue (mostly because I forget I have it!)
I have raised two wonderful kids and spent many happy and healthy years since then. I was able to return my abilities toward work and today I make my living researching and finding solutions to complex computer problems both in the U.S. and Internationally. Over the years, I have continued to hone and refine my research skills